Hi guys, I hope you are having a great weekend, today I bring you a weekly meme, new to me, called Stacking the Shelves is hosted by Tynga's Reviews , which is based on sharing the books you have recently added to your TBR list!
What I hope with this is, in addition to teaching them the books that I'm adding to my TBR, I also want to provide you with books that may interest you and maybe you can find new readings here :).
Here we go!
At Water's Edge (The Water Rushes, #1) 

by

S. McPherson
Synopsis
"In page upon page the plot unfolds, the struggle escalates, and the action rises until its climactic end, leaving the reader holding their breath, anticipating what's going to happen next."- Readers' Favorite Review

When 17-year-old, Dezaray Storm drunkenly stumbles across a portal one night, her life of abuse and self-pity begins to change, mainly because she starts living someone else's life.

Accidently trading places with the most powerful sorceress of the realm Coldivor, Dezaray finds herself assuming the identity of her magical lookalike, having to convince everyone in the realm that she's the real deal.

Aside from a few minor hiccups along the way, like the fact that she is not magical nor does she know even the simplest cards trick; Dezaray soon finds herself settling in. Particularly in the arms of Milo; a blue-eyed jokester with the ability to teleport.

However, it doesn't take long for Dezaray to realise that life on the other side is far from glitz and glamour and that creatures unimaginable are hunting her. A war is brewing between the seven empires of Coldivor and those that long to take over. Dezaray's enchanted double is their only hope; their secret weapon, set to be unleashed on her eighteenth birthday when she is gifted the powers of her forefathers.

But for the enchantress to return, Dezaray has to leave, and the thought of going back to Islon fills Dezaray with dread, for more reasons than one. Torn between a reality she can't stand and a fantasy she can't keep, Dezaray is struggling to see how any choice she makes will lead to a happy ending.
---
Holding Up the Universe 

by

Jennifer Niven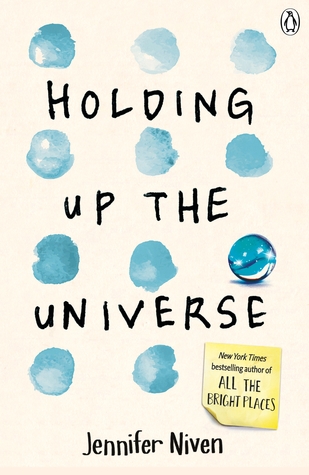 Synopsis
From the author of the New York Times bestseller All the Bright Places comes a heart-wrenching story about what it means to see someone – and love someone – for who they truly are.


Everyone thinks they know Libby Strout, the girl once dubbed 'America's Fattest Teen'. But no one's taken the time to look past her weight to get to see who she really is. Since her mum's death, she's been picking up the pieces in the privacy of her home, dealing with her heartbroken father and her own grief. Now, Libby's ready: for high school, for new friends, for love, and for EVERY POSSIBILITY LIFE HAS TO OFFER. I know the part I want to play here at MVB High. I want to be the girl who can do anything.

Everyone thinks they know Jack Masselin too. Yes, he's got swagger, but he's also mastered the art of fitting in. What no one knows is that Jack has a secret: he can't recognize faces. Even his own brothers are strangers to him. He's the guy who can re-engineer and rebuild anything, but he can't understand what's going on with the inner workings of his own brain. So he tells himself to play it cool: Be charming. Be hilarious. Don't get too close to anyone.

Until he meets Libby. When the two get tangled up in a cruel high school game which lands them in group counseling, Libby and Jack are both angry, and then surprised. Because the more time they spend together, the less alone they feel. Because sometimes when you meet someone, it changes the world – theirs and yours.
---
A List of Cages 

by

Robin Roe
Synopsis
When Adam Blake lands the best elective ever in his senior year, serving as an aide to the school psychologist, he thinks he's got it made. Sure, it means a lot of sitting around, which isn't easy for a guy with ADHD, but he can't complain, since he gets to spend the period texting all his friends. Then the doctor asks him to track down the troubled freshman who keeps dodging her, and Adam discovers that the boy is Julian–the foster brother he hasn't seen in five years.

Adam is ecstatic to be reunited. At first, Julian seems like the boy he once knew. He's still kind hearted. He still writes stories and loves picture books meant for little kids. But as they spend more time together, Adam realizes that Julian is keeping secrets, like where he hides during the middle of the day, and what's really going on inside his house. Adam is determined to help him, but his involvement could cost both boys their lives.
---
Sleeping Giants (Themis Files #1) 

by

Sylvain Neuvel
Synopsis
A page-turning debut in the tradition of Michael Crichton, World War Z, and The Martian, Sleeping Giants is a thriller fueled by an earthshaking mystery—and a fight to control a gargantuan power.

A girl named Rose is riding her new bike near her home in Deadwood, South Dakota, when she falls through the earth. She wakes up at the bottom of a square hole, its walls glowing with intricate carvings. But the firemen who come to save her peer down upon something even stranger: a little girl in the palm of a giant metal hand.

Seventeen years later, the mystery of the bizarre artifact remains unsolved—its origins, architects, and purpose unknown. Its carbon dating defies belief; military reports are redacted; theories are floated, then rejected.

But some can never stop searching for answers.

Rose Franklin is now a highly trained physicist leading a top secret team to crack the hand's code. And along with her colleagues, she is being interviewed by a nameless interrogator whose power and purview are as enigmatic as the provenance of the relic. What's clear is that Rose and her compatriots are on the edge of unraveling history's most perplexing discovery—and figuring out what it portends for humanity. But once the pieces of the puzzle are in place, will the result prove to be an instrument of lasting peace or a weapon of mass destruction?
---
Simon vs. the Homo Sapiens Agenda 

by

Becky Albertalli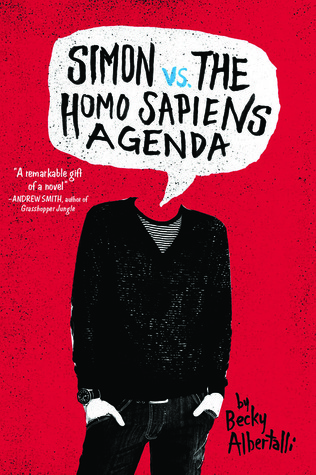 Synopsis
Sixteen-year-old and not-so-openly gay Simon Spier prefers to save his drama for the school musical. But when an email falls into the wrong hands, his secret is at risk of being thrust into the spotlight. Now Simon is actually being blackmailed: if he doesn't play wingman for class clown Martin, his sexual identity will become everyone's business. Worse, the privacy of Blue, the pen name of the boy he's been emailing, will be compromised.

With some messy dynamics emerging in his once tight-knit group of friends, and his email correspondence with Blue growing more flirtatious every day, Simon's junior year has suddenly gotten all kinds of complicated. Now, change-averse Simon has to find a way to step out of his comfort zone before he's pushed out—without alienating his friends, compromising himself, or fumbling a shot at happiness with the most confusing, adorable guy he's never met.
---
Dream a Little Dream (Silber #1) 

by

Kerstin Gier, Anthea Bell
Synopsis
Mysterious doors with lizard-head knobs. Talking stone statues. A crazy girl with a hatchet. Yes, Liv's dreams have been pretty weird lately. Especially the one where she's in a graveyard at night, watching four boys conduct dark magic rituals.

The strangest part is that Liv recognizes the boys in her dream. They're classmates from her new school in London, the school where she's starting over because her mom has moved them to a new country (again). But what's really scaring Liv is that the dream boys seem to know things about her in real life, things they couldn't possibly know–unless they actually are in her dreams? Luckily, Liv never could resist a good mystery, and all four of those boys are pretty cute….
---
Girl Online (Girl Online #1) 

by

Zoe Sugg, Siobhan Curham
Synopsis
I had no idea GirlOnline would take off the way it has – I can't believe I now have 5432 followers, thanks so much! – and the thought of opening up to you all about this is terrifying, but here goes…

Penny has a secret.

Under the alias GirlOnline, she blogs about school dramas, boys, her mad, whirlwind family – and the panic attacks she's suffered from lately. When things go from bad to worse, her family whisks her away to New York, where she meets the gorgeous, guitar-strumming Noah. Suddenly Penny is falling in love – and capturing every moment of it on her blog.

But Noah has a secret too. One that threatens to ruin Penny's cover – and her closest friendship – forever.
---
---
Do you know or have you read any of these books?
Tell me which books have you added to your TBR recently!
Feel free to leave your comment below, I always love to know what you think